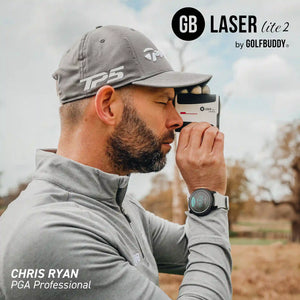 GOLFBUDDY Unveils the LASER Lite2: The Next Generation Successor to its Award-Winning Rangefinder
We are excited to announce the launch of our brand-new rangefinder, the Laser Lite2.
The GOLFBUDDY Laser Lite2 will be available to retailers and green grass establishments due to the extensive distribution network of Second Chance Ltd.
This innovative golf accessory's predecessor, the Laser Lite, was never made available to retail or green grass channels, making the Laser Lite2 a much-anticipated addition to the market.
The GOLFBUDDY Laser Lite 2 has been introduced to the market at an extremely competitive price point of £169.99 / €199.99, making it an attractive option for golf enthusiasts seeking a high-quality rangefinder without breaking the bank. This affordable RRP ensures that a wider range of golfers can benefit from the advanced features and precision that the Laser Lite 2 has to offer, including:
Faster measurement speed with ZST Technology (0.2 seconds)
Design 2.0 compact for optimal grip and steadiness when using the rangefinder
Easy Pin Finder Mode – Press and hold power / measurement button to activate Pin Finder Mode.
A water-resistant and rugged design, built to withstand the toughest golfing conditions.
Slope ON/OFF – Press and hold the MODE button for 5 seconds to turn the Slope feature on/off
Bright LCD – Clear measurement with bright 6X magnification viewfinder
IPX4 Water-resistant
USGA / R&A legal for handicap & tournament play
---